Sunday 27nd November
Blue Mountains Colosseum
High up in the Blue Mountains lies an intricate network of old walking tracks. These were mostly professionally constructed early last century, and despite years of neglect, many can still be followed. The quality of the trackwork can still be seen to this day. Our walk will take you to visit a number of wonderful rock formations that are different to so many others that lie in this area. We will also visit a magnificent cave and visit historical sites, but the real highlight of the walk is.... .4
Saturday 10th December
Christmas Lunch at Crosslands
Welcome to our Christmas 2016. Due to last year's successful Christmas location we have decided to make a return to Crosslands Reserve in Berowra Valley. The area has a long history with the first known inhabitants being a local Aboriginal tribe, a subgroup of the Dharug people who lived in the Hawkesbury Region. They sheltered in caves and behind screens made of bark or branches. They found an abundance of food from the local vegetation, the plentiful fish, oysters and small animals of the area. The first European settlers were Burton Crossland and Matthew Charlton who arrived here in the mid-1800s. Burt Crossland was engaged as caretaker of Charlton's property on the eastern bank of Berowra Creek. Burton built his home here and earned a living cutting timber, growing fruit, fishing.0
Saturday 17th December
Kayaking: Narrabeen Lagoon
Calm flat water kayaking - A great experience and fun day on the water.
With a circumnavigation of the lake, we first pass by Sanctuary Island to visit the main creek system which feeds the lagoon with sea water from the ocean then go on to explore the lagoon's hidden treasures. The paddle finishes in a lovely shoreline reserve for lunch. This event is great for first time paddlers and experienced alike.1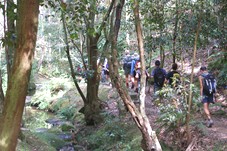 Saturday 14th January
Kayaking: Southern Bays of Budgewoi Lake
Open water kayaking - A great experience and fun day on the water.
From a foreshore reserve at the top of the lake, this paddle heads south to the southern end of the bay. As it skirts the shoreline the paddle passes a bird sanctuary and the waterfront cottages of Toukley and Wallerah before heading up the western shore for morning tea at a picturesque foreshore reserve. After our break, we return to where we first launched for lunch.3
Saturday 29th January
Canyons of The Blue Mountains
We visit a little-known canyon which is suitable for experienced bushwalkers who are looking for an introduction into canyoning. There are none of the difficult sections that most canyons have such has water jumps, abseiling or difficult climbs. Subject to rain fall the canyon is short and is usually shallow enough to walk through. However, the canyon will include some rock scrambling and/or boulder hopping.
Note: The risks are obviously a little higher than those which are associated with bushwalking and may include but not limited to.... .1
Wednesday 8th February
Trivia Night with Melody
Everyone is welcome to attend this Trivia Evening. Our trivia presenter for the evening is the lovely Melody who no doubt will keep everybody on their toes as she throws the questions out to the participants. We hope to have a number of prizes to give out on the night including a prize for the person who is best dressed to the evening's theme, which is simply, just PINK.0
Saturday 11th February
Kayaking: The Hawkesbury Big Paddle
The Hawkesbury River Big Paddle takes paddlers along the river past the tiny river settlements, farmlands and rolling hillsides then later in the morning we stop off at our private little beach where our master chef will cook us up a delightful breakfast of bacon & eggs with piping hot coffee or tea. The scenery is superb as you glide along this mighty river taking it all in.4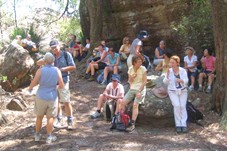 Sunday 12th February
Great North Walk & The Enchanted Forest
This walk takes you through a number of varying environments from red gum (smooth barked apple) and casuarina forests to tall eucalypt and coachwood forests. You will also travel across the dry sclerophyll forest of the ridgelines and through the wet lush gullies of this beautiful area. Just like each section of the Great North Walk this day out in the bush has plenty to offer. Along our route there you will see blue gum high forest and sandstone architecture and enormous rock formations.3
Sunday 26th February
Waterholes of The Southwest
Today's walk takes us into one of the state's newer forests which was once earmarked for development. Our walk traces a walking track along a short steep decline through the traditional country of the Aboriginal People, a landscape of eucalyptus bushland and dramatic sandstone formations. The Aboriginal people used to call these pools 'nice and sweet' in relation to water. So, it stands to reason that at the end of this walking track, you'll find a beautiful freshwater swimming hole. If the weather is warm enough, why not take a refreshing plunge into this clear deep water pool. One waterhole would be impressive enough, but we have been blessed with two.3
Saturday 11 March
Lookouts & Historic Sites
This half walk takes us out to see two lookouts which have superb views across the parkland and down into the adjacent waterways. After visiting the second lookout we continue our walk across the plateau then descend through a forested valley to an historic site. Once here, we can relax by the waters-edge while having our morning tea. The land here was once used by timber cutters who cleared a road through the bush to the waterway in the mid 1850s. The historic site once had a wharf the timber cutters could load timber onto boats bound for.... .1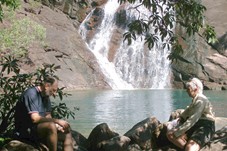 Sunday 12th March
Kayaking: Creeks of Northern Sydney
Just north of Sydney in a hidden away environment, we will explore the quiet backwaters of several local creeks. Paddlers should expect beautiful scenery with water reflections and an array of birdlife on a creek system that is free from power-craft. This is an easy paddle and suitable for beginners.2
Saturday 26 March
The Mystery Walk
Join us for a reconnaissance of our newest Sunrise walk which has not yet been released. If you are into half day walks, want to see some great waterholes and waterfalls then this is the walk for you. As an added bonus the event finishes back at the Local Drinking Hole for some late morning/midday brunch.3
1st - 2nd April
The Vine - Ride or Drive
Yes, it's on again, The Vine, which will take you to an all new area of New South Wales wine country. Our 2017 tour takes you to several wineries for a taste of delicious food and wine. This will no doubt be our biggest event for the 2017 season. Included with the tour is two night's quality cabin accommodation in a country setting with barbecue area and swimming pool.3
Future Events
Walk4Charity
A DAY IN THE BUSH FOR CHARITY
At last there is a fundraiser where you can engage in a fun day out in the bush with a guarantee that 100% of the funds raised go to charity. There are very few organisations that can boast about their fundraising achievements like we can.
We are able to manage this because we are a volunteer organisation that genuinely
cares about people in need. When you support our fundraising events you can be assured every dollar raised
goes to our chosen charity.
Join us for this unique fundraising day and meet others with like-minded interests. While on our bushwalk, journey you'll get the chance to enjoy our Wilderness Cafe while relaxing and appreciating an Aussie Sausage Sizzle on completion of the walk.3

This program summary has been supplied for members as a quick reference guide.
Full program details can be accessed by going to the Members Only page.
The number at the end of the activity description denotes the activity grade. ie: difficulty of activity. A lesser number denotes a less difficult activity.
PLEASE NOTE:
Special Note: For your safety and the safety of other members, this group has a "No Booking, No Go" and a "No Membership, No Go" policy.
Absolutely No Exceptions